Myotherapy
WHAT IS MYOTHERAPY?
In life often on a daily basis, whether it is through work or the sports we play, we suffer muscular aches and pain. This pain or muscle dysfunction can cause a reduction in the body's normal range of motion, this in turn can make the body compensate in its natural movement, throwing the body out of balance. Myotherapy can help get the body back in balance, using many different manual therapy techniques to ease this muscular pain.
A myotherapist does this by using a comprehensive range of tests that help the therapist come up with an action plan to help restore the affected muscles back to good health. Some of the techniques are as simple as SOFT TISSUE MASSAGE and MYOFASCIAL TRIGGER POINT DEACTIVATION (trigger points can cause reduced strength, or localised pain to the affected muscle), to more complex techniques such as DRY NEEDLING and METs (muscle energy techniques). After going through the treatment the therapist will also advise strengthening and stretching exercises for the patient. By getting treatment and following the advice of the therapist you should expect to see a reduction in pain and improvements in your movement within 2-3 sessions.
Many forward thinking companies use it to reduce claims through Work Cover by using myotherapy in their Early Injury Prevention programs (EIP), particularly desk bound workers who suffer headaches, neck and back pain etc.
Many sports these days such as the AFL, Basketball, Soccer, Tennis, Cricket and even the Australian Ballet and their accompanying Musicians use myotherapists, working in conjunction with the team physiotherapists these days to speed up the recovery of an injury or for general maintenance. The physio's dealing more with the acute injuries and then allowing the myotherapists to work with the athletes to help speed up the athlete's recovery.
WHO CAN BENEFIT FROM MYOTHERAPY?
Everyone from the general public to amateur/professional athletes can benefit from myotherapy.
DO YOU SUFFER FROM?
Neck and back pain
Migraines/ headaches
Piriformis syndrome/ sciatica (buttock pain, numbness down the back of the leg, burning sensation in the calf muscles)
Muscle strains/ tears ( hamstring/quadricep are common problems myotherapist work on)
Tennis/ golfers elbow (lateral / medial elbow pain)
Carpal Tunnel
Knee, hip and ankle pain
Frozen Shoulder (adhesive capsulitis)
Upper cross syndrome (a common postural issue affecting office workers, electronic gamers)
General muscular tightness (general overall massage is great for just relaxing, it promotes blood flow as well as lymphatic movement through the body)
* IF YOU HAVE A MUSCULAR /SKELETAL CONDITION ASK YOUR MYOTHERAPIST IF THEY CAN HELP.
For more information on the conditions we treat and services we offer, or to book an appointment please call (03)9790 4266 or email: info@think-physio.com.au
↑ Back to Top
We are a preferred provider for MediBank Private and BUPA clients, meaning patients with these private health funds will receive discounts at our clinic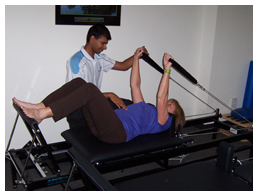 We treat...
Sports injuries
Back & neck pain
Joint pain
Surgery Rehabilitation